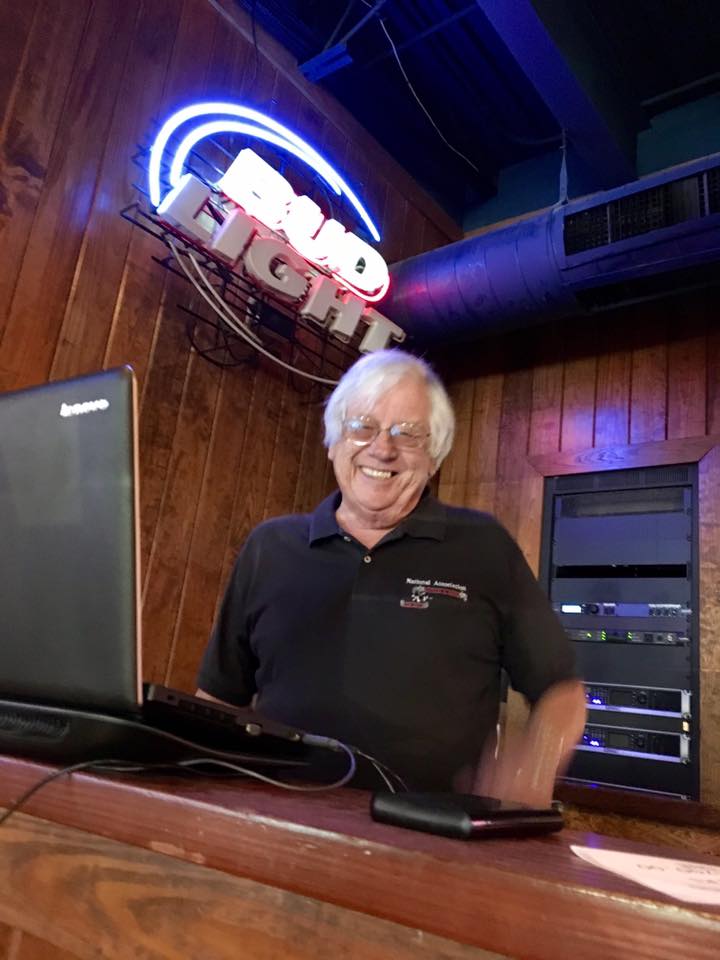 Mike Little is a deejay from Anderson, South Carolina and is a member of the Electric City Shag Club in Anderson where he deejays for the club on a regular basis. He is also a member of the Carolina Shag Club in Greenville. He was an Arbitron highly rated radio deejay for WANS AM Radio for 3-1/2 years. For nearly 20 years he has written articles for a number of publications, including the newsletters of the Association of Beach & Shag Club Deejays (ABSCDJ) and the National Association of Rhythm & Blues Deejays (NARBDJ), for both of which he is a member. He has written articles for the Website, beachmusic45.com, as well as the SOS publication, Carefree Times. In 2003, he received the NARNDJ's Rufus Oates Award. In 2017 he was inducted into the Deejay Hall of Fame as an honorary member by the ABSCDJ. Also in 2017, he was inducted into the Greenville Area Shaggers Hall of Fame as an honorary member. Mike also serves on the advisory Board of Directors of the Carolina Beach Music Awards. He spent over forty years in the printing industry until his retirement. Over the years, he was also active in Anderson community. He serves as a Past Chairman of the Printing Industries of the Carolinas, currently serving on the Foundation Board of the organization. He currently serves on the Board of Directors of the Ben Franklin Honor Society of the Printing Industries of America as a Past Chairmen of the organization.
Have You Heard
by
Mike Little
I'm Going, But I'll Be Back - Buster Brown, 1961; Mike Little, 2019
You may have noticed that recently I have ended my article with the words "I'm Gone, But I'll Be Back". This wording comes from the lyrics of the song by Buster Brown released in 1961 on the Fury label. You will mostly remember this Cordele, Georgia native from his 1959 mega-hit, Fannie Mae, that became a huge Rhythm & Blues hit all across the nation, especially along the coasts of the Carolinas. I'm Gone, But I'll Be Back was also used as the closing theme song for the radio show of the late Billy Smith.
You also may have noticed that the statement also read "by.....Mike Little, 2019. After I reached the age of 75, my wife Barbara and I felt that we needed to move into smaller quarters, especially on one level. Therefore we have our beautiful home on Lake Hartwell on the market. In the near future, we are going to have to devote a lot of our time marketing our home and getting ready for the move and at this time, we haven't decided where. This means packing and eliminating or storing a good portion of our belongings. Also, as we age, our health is not as good as it used to be. So...after nearly twenty years of informing you of what's coming down the pike in our world of music, I've decided to take a sabbatical for a year or so. However, the music must go on. Therefore, please join me in welcoming...
Dennis Brumble
Dennis will be reporting newly released and previously released music that we love to listen to and dance to. Dennis is very knowledgeable in the music of our genre. He has been a member of the Association of Beach & Shag Club DJ's for quite some time, serving in numerous capacities of the Association, including President of our organization. You will also know Dennis from his great articles in the Deejay Newsletter, Deejay Update, entitled Old School Shag History – Anatomy Of A Song, which provided a history behind the selected song, as well as the artist. In 2010, Dennis was presented the Richard Nixon Service Award, for his outstanding service, in addition to deejaying, to the shag and beach music communities. Dennis and his lovely wife Sandra now live in Little River, South Carolina. They, as a couple, have served association well by spearheading the selling and the posting of the tickets for our annual fund raising efforts at Deejay Throwdown for a number of years running.
Please read his articles. You will learn lots about releases, new, as well as some old. You may well be informed of the next #1 hit in the multiple charts that we so often refer to.
In the meantime, thank you Dennis Brumble for taking a load off without discontinuing music information. A thank-you goes out to everyone I have worked with over the years, most recently, Tiz Laney for his diligence, his patience, his suggestions and his bending over backwards for me when needed. Thanks goes out to everyone who have read my articles, or at least put it to good use in the bathroom, or out in the back in some cases
And now....
I am gone, but I'll be back.