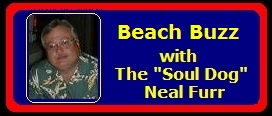 Beach Buzz
With The Soul Dog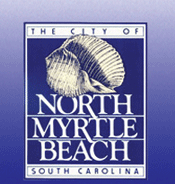 What's Happening: It is hard to place a value on the sheer importance of having live venues available for Beach music bands to perform at throughout the year. This is particularly true in the North Myrtle Beach area, where multiple establishments are now hosting live entertainment either weekly or periodically either in season or, in many cases, year round. Just within a few minutes of each other we have Ducks, Spanish Galleon, Fat Harold's, HOTO's and Boom Boom's scheduling a variety of both established and new bands on a regular basis. Deckerz and 2001 will also occasionally join the party as well by adding Beach bands to their entertainment lineup. If you are vacationing or spending extended time in the Myrtle Beach area, make it a point to get out and see one or more of these scheduled band events at the clubs. It is a key component to keeping the music alive and well!
Beach Music Fun: The spring and summer Beach music festival circuit is currently in full swing. Some of the long running events have already taken place with a few more to come. Let's take a look at several of the key festivals that are so instrumental in promoting Beach music: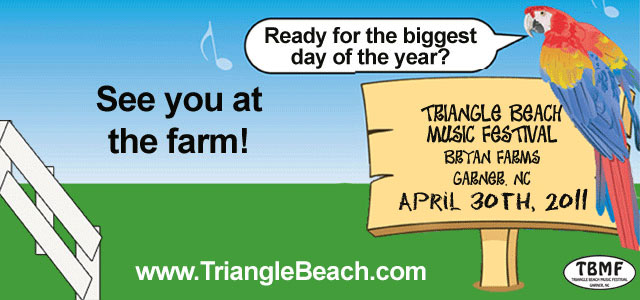 Triangle Beach Music Festival
The 13th annual TBMF, held this year on April 30th, was another huge success. It is held every year on the last Saturday of April at Bryan Farms outside of Garner, N.C. (yep, Scotty's hometown). The festival owner/promoter is T&R Baxstage Productions Inc. and has grown to the level of typically drawing around 10,000 partying fans. The festival most often has the Chairmen of the Board as the headliner with the Band of Oz and Coastline featured as well. This year's lineup included relative festival newcomers Hip Pocket and Spare Change. Over the years, artists such as Holiday Band, Fantastic Shakers, Embers, Craig Woolard Band, Clarence Carter, Main Event and Johnny Dollar Band have provided quality entertainment at this festival. I was fortunate to help host the first TBMF way back in 1999 as part of the Beach music air crew of WTRG 100.7 FM radio. The festival has become one of the most 'looked forward to' major events in the Triangle and surrounding areas.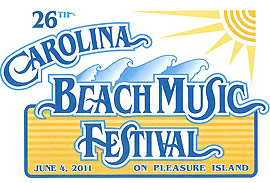 Carolina Beach Music Festival
The 26th annual Carolina Beach Music Festival was held on Saturday, June 4th of this year on Pleasure Island (which consists of Carolina and Kure Beaches). This festival has become a major drawing card for the North Carolina beaches on the island. The stellar lineup consisted of Jim Quick & Coastline, Band of Oz and The Fantastic Shakers. The event, which is certainly one of the longest running festivals, is traditionally held each year on the first Saturday of June. Hosted by the Pleasure Island Chamber of Commerce, this festival has the distinction of being the only one now known in existence to be held directly on the beach. The weather was excellent this year with the crowd numbering several hundred and WWAY-TV in Wilmington covering all the day's activities.

Stuart Va. Beach Music Festival

The 30th annual Stuart Beach Music Festival will be held June 9th-11th at Wayside Park in Stuart, Virginia. Tagged as 'Hot Fun In The Summertime', this long running event was the brainstorm of one Wayne Craig way back in 1982. It is most likely the longest running Beach music festival in the country that is held each year. With the backing of the Patrick County, Virginia Jaycees, the event is spread across three days with loads of Beach music entertainment. This years lineup: Thursday – Mark Roberts & Breeze, The Impacts; Friday – CC Coates Band, Mark Roberts & Breeze, Hip Pocket; Saturday – Clarence Carter, Legends of Beach, Hip Pocket, The Showmen, Danny Woods & The Board of Directors. On site camping is available as part of the overnight accommodations of the three day festival.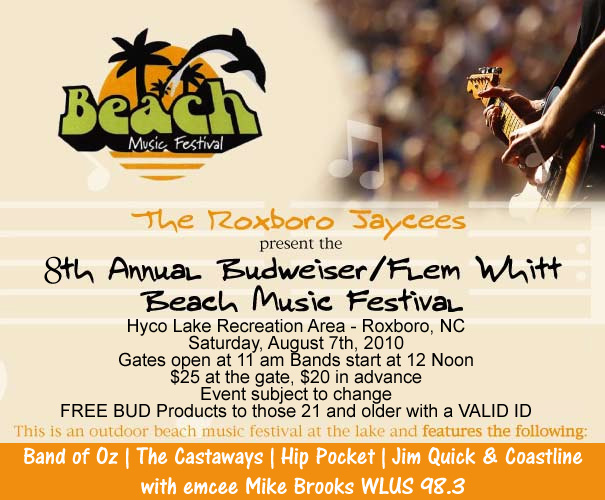 Flem Whitt Beach Music Festival
The Flem Whitt Beach Music Festival, in its 8th year, will be held on Saturday, August 7th at the Hyco Lake Recreation Area in Roxboro, North Carolina. In addition to a great lineup of band entertainment (Band of Oz, Castaways, Hip Pocket, Jim Quick & Coastline) a special added attraction – free Budweiser products to all over the age of 21!! This event is proudly sponsored by the Roxboro Jaycees. Who was Flem Whitt, you might ask? He was the Founder (1955) and first President of the Roxboro Jaycees who passed away in 2002. This festival each year serves to honor the memory of the legacy he left behind. Proceeds from the event go to the Flem Whitt Scholarship Fund, which was started by his family. To find out how and where to purchase advance tickets, go to www.flemwhitt.com/tickets
Jekyll Island Ga. Beach Music Festival
Here is another one of the long running Beach music festivals – this one occurs on
Jekyll Island, Georgia
and is in its 28
th
year of existence. Hosted in conjunction with the Golden Isles Shag Club, this 3-day affair will be held this year on Thursday August 11
th
through Saturday August 13
th
. Thursday kicks the festivities off with the Shag-A-Ganza Party at 7 PM with a DJ spinning the latest Beach tunes. There will also be shag lessons and workshops held throughout the weekend. The Friday night live entertainment is scheduled to be Mark Roberts & Breeze as well as The Craig Woolard Band. Mark and company will play again Saturday afternoon followed by The Swingin' Medallions that evening. Several DJs will be playing throughout the weekend. Indoor activities will take place at the Jekyll Island Convention Campus while
Saturday
afternoons
Beach
Blast will be held at the new
Great
Dunes
Park
.
CHARLESTON BEACH MUSIC AND SHAG FESTIVAL
Charleston Beach Music and Shag Festival
I mentioned this festival last month in our discussion on Pivot's Beach Club. This event is held each year to benefit the Beach Music and Shag Preservation Society of South Carolina. The 6th annual festival is slated for Labor Day Weekend, September 3rd, 4th and 5th. The locations are still to be determined while the lineup for the three days consists of top notch entertainment. Saturday will feature The Shrimp City Slim Band and The Carolina Soul Band as well as a surprise artist. Sunday's lineup includes The Rick Strickland Band and Rhonda McDaniel. The Labor Day wrap-up will be handled by Jim Quick & Coastline. More information will be available regarding times and places as the festival date draws closer. To find out about purchasing advance tickets, go to this website:
www.beachmusicandshagpreservationsocietyofsouthcarolina.com/
What's New: There are several new albums in the world of Beach music just about to be released or in the works to be released in the very near future.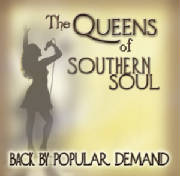 My colleague Mike Little previously previewed a KHP Production release entitled The Queens of Southern Soul: Back By Popular Demand but it is now targeted for a mid-July release. It will include veteran Beach music divas such as Susan Trexler, Terri Gore, Rhonda McDaniel, Molly Askins, Holly Singletary and Karen Clayton as well as relative newcomers Rachel Tripp, Taylor Manning, Lesa Hudson and Julie Thompson.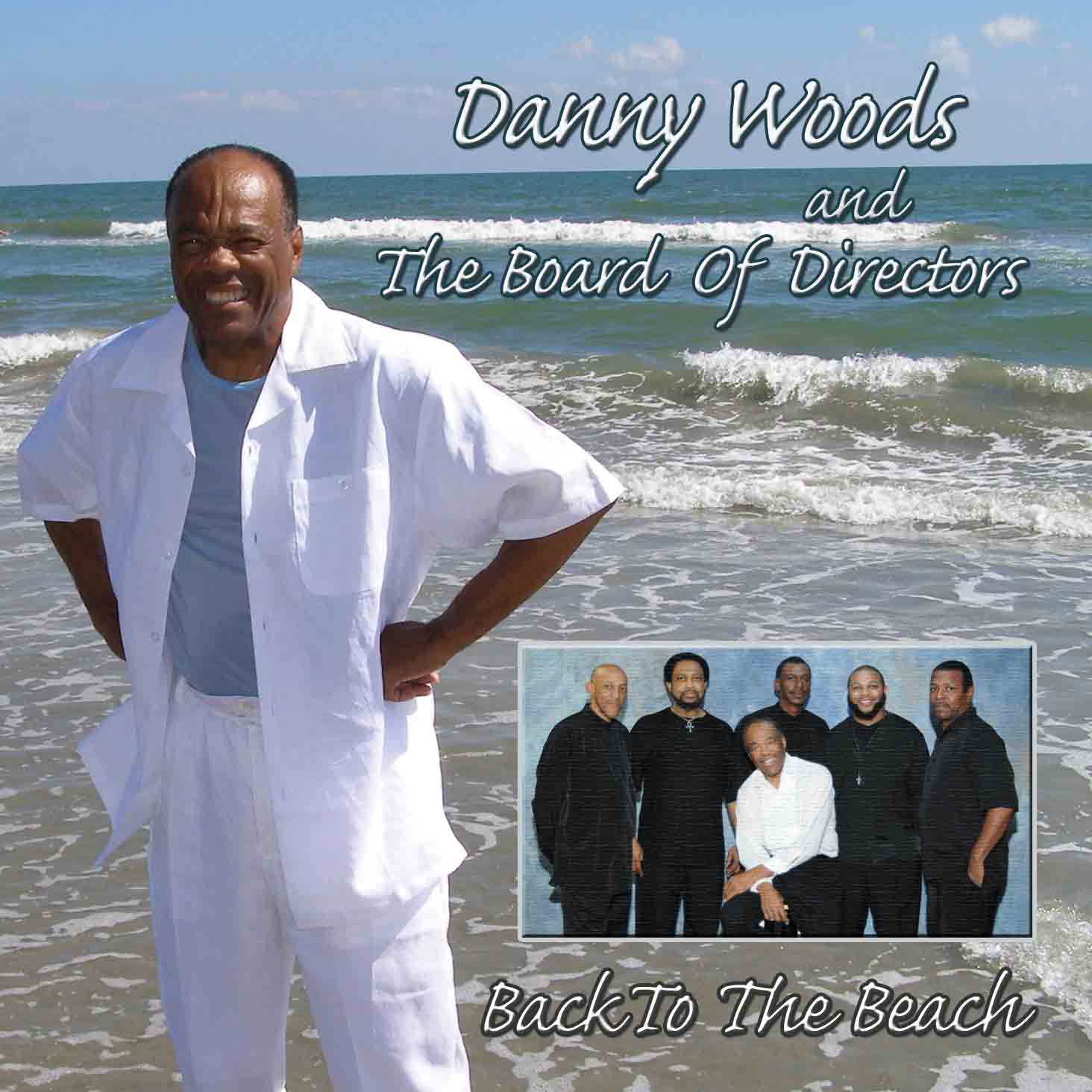 Former long time Chairmen of the Board stalwart Danny Woods is releasing an album this month with his new band, The Board of Directors, on the KHP label. Back To The Beach features a couple of pre-release tunes that are already getting some attention, I Love The Way You Are and a re-release of You've Got To Crawl Before You Walk. A CD Release Party was held on Friday, June 3rd as part of the Summer Kick-Off activities at the Spanish Galleon in North Myrtle Beach.
KHP, in conjunction with Danny, is also planning an anthology of his early single releases on various labels from his days as a young man in Atlanta up through the Detroit Chairmen years on the Invictus label with Holland, Dozier and Holland. This will prove to be an exciting project – if you've never heard, for example, Danny's single You Had Me Fooled on the Correc-Tone label, you are in for a real treat!
KHP has several additional projects in the works. A new compilation slated for a few weeks down the road will be titled Boppin' And Rockin' with Ms. Jody's The Bop and Donnie Ray's Who's Rockin' You as the headliner songs. Both are smokin' on the Beach and Southern Soul charts. Also featured will be a Chick Willis favorite as well as new tunes by The Carolina Soul Band, Paul Craver, Tommy Black and more.
The Castaways are working on a new album which should be out on KHP in a matter of days. It will include their advance release version of I (Who Have Nothing).
Additional albums in the early stages include a new release from Rhonda McDaniel as well as an anthology of all their hits from Durham, North Carolina's Fabulous Jellyrolls.
Beach Radio: If you happen to be heading north or south on I-95 in southern Virginia, be sure to turn the radio dial to 860 AM and give it a listen. That spot is the home of WEVA Radio in Emporia, Virginia, which plays Beach music daily in their regular rotation as well as 'Beach Breaks' throughout the day. Station General Manager Andy Lucy, who also handles the morning on air shift, stays in tune with all the latest in Beach music and makes sure the programming stays up to date as well. The Saturday rotation features nine hours of syndicated Beach shows: On the Beach with Charlie Brown 1 – 4 PM, Big Kahuna's Beach Party 4 – 7 PM and Carolina Sounds Beach Show 7 – 10 PM. The Joey Warren Beach Show has just recently been added to the overall mix, airing on Sundays from 6 to 9 PM. To find out more about the station, check them out on Facebook or @WEVA86 on Twitter.
Beach Classics: A prominent '60's Soul group out of Chicago, the Radiants recorded one of the all time Beach music hits with Ain't No Big Thing in 1965. It actually came in at #87 in the recent publication The Beach Music & Shag All Time 200. The group was, however, much more than just a 'one hit wonder'. A previously recorded tune, Voice Your Choice, in 1964 was also a jukebox staple and very deserving of mention as an all time Beach music classic. There were quite a few really strong songs produced by the group during this period, including Heartbreak Society, Baby You've Got It, Shy Guy, Hold On, and Don't It Make You (Fell Kinda Bad). The Radiants recorded roughly forty singles primarily on the Chess label between 1962 and 1971. For the majority of those recordings, the group consisted of members Maurice McAlister, Wallace Sampson, Jerome Brooks, Elzie Butler and Green 'Mac' McLauren. McAlister and McLauren also recorded several singles under the name Maurice and Mac, including a tight version of You Left The Water Running. One of the best two sided 45's ever issued by the Radiants was their last as a group: My Sunshine Girl b/w Don't Wanna Face The Truth on the Twinight label. Both songs are absolute killer!
Next Month: A discussion about the role that the various and many Shag Clubs play with regard to Beach music. The plan is to have actual feedback from several of the Club presidents to share as well.
Artists, DJ's, Club owners etc. send me your latest news for potential inclusion in Beach Buzz at nealfur@aol.com.