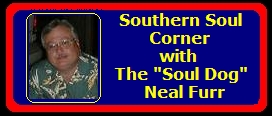 Archives:
Southern Soul Corner

With The Soul Dog
Corner Talk: Smokin' hot tunes in Southern Soul this month include: When You Get Drunk by Mel Waiters (#1 on Soul and Blues Reports Top 25), The Crying Zone from Bigg Robb, Ms. Jody's I'm Staying With My Man, Floyd Taylor's Time Out (Cut To The Chase), Only Time I Get Lonely from Stephanie Pickett (believe we predicted this one a few months ago to take off!) and Ride It Like A Cowboy by Kenne' Wayne……….
New CD's recently issued from Southern Soul artists: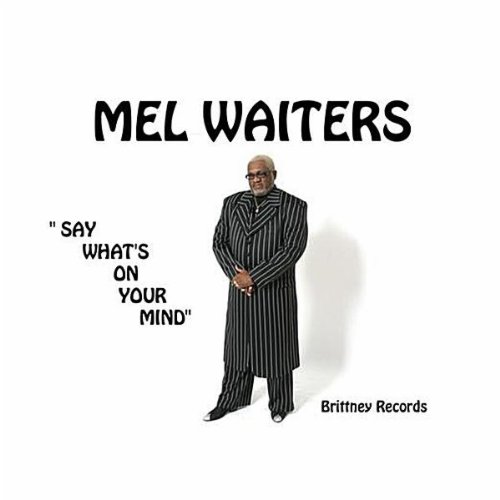 The venerable Mel Waiters has the aforementioned numero uno tune from his latest release, Say What's On Your Mind, on the Texas based Brittney Records label. It is actually a record company that Mel launched back in 2008, which has since released albums by Chandra Calloway and Sang'n Clarence. Mel continues to crank out killer jams in this market as one of the most recognized male vocalists on the Soul circuit. Hot tunes on his new one include Little Girls Can't Do, If I Fall in Love and All I Want Is A Beat.

Kenne' Wayne has been rocking the Southern Soul world for the last fifteen years. His debut album, Old Fashion Love, came out in 1996 – Kenne' has been dropping hit tunes like they were gold ever since! Bangin' grooves that immediately come to mind include Love Down (1999), The Party Ain't Over (2001), Operator (2001), Time To Get Loose (2006) and Is There A Party In Here Now (2008). Wayne's latest album release, The M.V.P. on the G Street label contains the aforementioned hot hit Ride It like A Cowboy as well as jumpin' off cuts like Dance Wit' Me, Good Good Love and Hold On.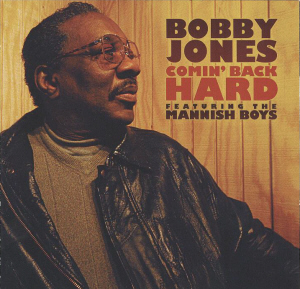 Bobby Jones, previously known as Bobby Jonz and before that Bobby Jones (huh, somewhat confusing?) has actually been strong on the Soul/Blues scene since his early days in Chicago in the late '50's. He had a couple of huge hits in the '90's with In The Mood For Love and Sneaking & Freaking that were big in both Southern Soul and the Beach genre (for a true hidden gem, check out his recording of the 1997 single Love Mission). Bobby most recently has worked with The Mannish Boys, which were featured on his 2009 Coming Back Hard album. His latest effort, You Ain't Got No Proof, on the Desert Sounds label, already has the title track on the charts. Most of the remaining eleven tracks are uptempo shuffles with Cheating On Me and Little Sally Walker potential grooves to make an impact.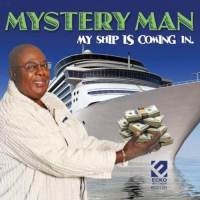 The Mystery Man is back – just recently dropping a new album entitled My Ship Is Coming In on the Memphis based Ecko Records label. But who is he? He is Mississippi native Jimmie Warren who began his musical career almost forty years ago as a songwriter for Stax Records. The Mystery Man has been travelling the Southern Soul circuit for the last ten years, working with J. Blackfoot, Willie Clayton, Denise LaSalle, Wilson Meadows, Lee Shot Williams, Charles Wilson and many others. This latest release is his 5th album to date, the second on the Ecko label. Tracks I'm liking include Hole In The Wall Café, Can't Get Enough and Baby Dance With Me.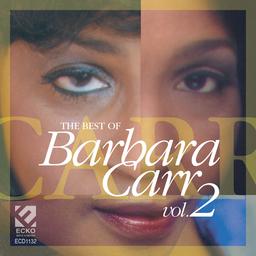 Speaking of Ecko Records, the label recently came out with The Best of Barbara Carr, Volume 2. Volume 1 was actually released by Ecko in January of 2003. The legendary Carr, whose career stretches all the way back to early days on Chicago's Chess label in the '60's, first recorded on Ecko in 1997 with her Footprints On The Ceiling album. Volume 2 continues to highlight the outstanding vocal stylings of Barbara - Long On Talk Short On Love, Stroke It, Ya'll Know How To Party, Anybody's Man Tonight and We're Gonna Boogie are just a few of the selected fourteen tracks on the release. After nearly fifty years in the business, Barbara Carr still knows how to deliver the goods!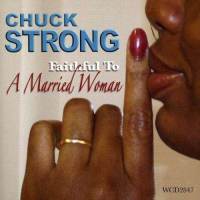 Chuck Strong is another of those outstanding Soul singers that has flown under the radar quite a bit in his long running career. He graduated from local gigs in the '80's in his hometown area of Selma, Alabama to singing lead with The Rhythm Aces, eventually touring with Johnnie Taylor and Tyrone Davis. Chuck released his first Southern Soul album, Stolen Love, on Johnny Vincent's Mississippi based Ace label in 1994. Since that point in time, he has had ten albums across the Miss Butch, S&M, Waldoxy and Laryan labels. Chuck has become a mainstay on the Blues show circuit, widely accepted by audiences and fans. Chart success, however, for the most part has somewhat eluded him over the years. His most successful single to date has been 2004's Rock That Man In The Boat. Chuck has had several strong tracks worthy of mention including: You Beat Me At My Game, Why Do You Make Me Cheat On You, I Was Checking Out She's Checking In, She's Not The Cheating Kind, (Down Home) Southern Girl, Please Accept My Love, I Can't Go For That, You Are Just What I Needed, 3 Into 2 Won't Go. If you get the opportunity, check out Chuck Strong – if you like straight ahead upbeat Soul music, you will not regret it!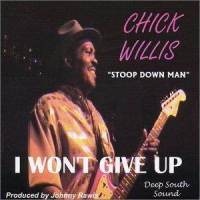 Chick Willis got his start as a sideman in the band of his older cousin, emerging R&B star Chuck Willis, in the mid '50's. Chuck, who had several major hits, suffered from severe stomach ailments, tragically passed away from peritonitis in 1958 at the tender young age of thirty. Cousin Chick continued on with a solo career that has had many peaks and valleys over fifty-five plus years of singing and recording. With over twenty albums to his credit, Chick's guitar licks and risqué lyrics have become a staple in the Blues and Southern Soul arena. KHP Records just recently worked with Chick to create a re-issue of his 2002 single Keep Singing The Blues. The song has become a shag favorite in Beach music circles and is included in the latest Boppin"And Rockin' compilation from KHP. It is a good example of the strong work of this legendary veteran.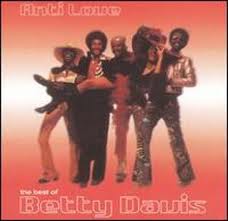 The Betty/Bettye/Bettie series lives on! – Here is the intriguing story of another Soul legend named Betty – the very opportunistic tale of Betty Davis!
Betty was born Betty Mabry in Durham, North Carolina in 1945, moved to Pittsburgh as a youngster, landing in New York while still a teenager. She found club work at a place called The Cellar and soon after cut her first single at the age of nineteen. Betty sidelined with some modeling and dabbled in songwriting – she wrote the single Uptown, picked up by the Chambers Brothers, included on their The Time Has Come album, which went to #4 on Billboard in 1968. She ran with a fast crowd, including a couple of guys who would become cornerstones of the upcoming Rock music movement – Jimi Hendrix and Sly Stone.
Betty met the already legendary jazz trumpeter Miles Davis in 1968, the romance blossomed quickly resulting in their marriage later that year. She had a startling influence on the direction Davis began to take with his music – jazz inflected with psychedelic rocklike riffs. The fused sound was evident in his 1970 album, Bitches Brew, which made it to #1 on Billboard's Jazz chart and #4 on R&B. The marriage, however, did not last nearly as long as the new sound and the couple divorced after a little over a year.
Betty, retaining the surname Davis, then moved to London to pursue modeling full time. She still had the music bug, continuing to write songs all the while. Betty returned to the U.S. with the supposed groundwork in place to record with Santana. When that failed to materialize, she organized a group of West Coast musicians to put together her first album. Betty Davis was released in 1973, with studio work by Larry Graham, Sly Stone band members as well as the Tower of Power horn section. Although the album had little commercial success, it was quite a collection of impressive lyrics and funky grooves. She emerged as an early version of a performing Tina Turner, strutting the stage and shouting the words of her blistering tunes.
Betty recorded and released two additional albums during this period – 1974's They Say I'm Different and 1975's Nasty Gal. Neither was a huge success and by the end of the decade, she had all but disappeared from the music scene. It is always intriguing how things come back around in this business. Years later, Betty's '70's recordings are tagged as collectors items and she is considered a cult figure. Her albums were re-released on CD, including a previously unreleased 1979 recording session which has been twice issued under different titles. A greatest hits collection Anti Love: The Best of Betty Davis actually came out in 2000. Even though her performing career has been over for many years, her music marches on for Soul/Funk lovers worldwide!
Soul Dog's Top 15 Southern Soul Songs for the Year 2004
1. Bangin' The Headboard - Tyrone Davis
2. Stand Up In It - Theodis Ealey
3. Girl You're So Sexy - Patrick Green
4. Check to Check - Omar Cunningham
5. My Secret Love - Sterling Williams
6. Love Mechanic - Willie Clayton
7. Front Back, Side to Side - Barbara Carr
8. Short Skirts, Tight Jeans - Love Doctor
9. I'm Down For You - Earl Duke
10. Juke Joint Slide - Lee Shot Williams
11. Finders Keepers - Wilson Meadows
12. Your Kitchen Was Closed - Mel Waiters
13. So Sweet So Fine - Vick Allen
14. I'm Blue - Jackie Jackson
15. Shotgun Motel Love Affair - Vince Hutchinson