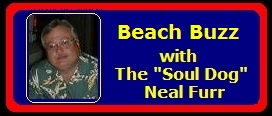 Beach Buzz
With The Soul Dog
What's Coming: The 2011 Annual Carolina Beach Music Awards, previously known as the Cammys, are fast approaching. It is a venue filled with five days of entertainment and fun that is unparalleled in the Beach music industry. A ton of legwork, preparation and planning goes into this event each year, in fact, the effort never stops. As soon as the weekend is concluded, work immediately begins to prepare for the following year's awards. Having served on the Advisory Board for past two years has allowed me to observe first hand the amount of dedication and hard work that is required to make the weekend a reality. I hope everyone will attend this years weekend with the spirit that is intended - for the promotion and preservation of the Beach music industry as a whole.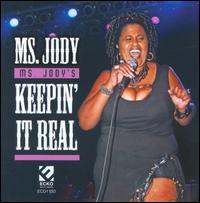 What's Hot: In the shag dance world, songs that become immediate floor fillers tend to stay hot for a good long while. High on that list right now: Let's Walk by Austin DeLone, I Can't Think from Band of Oz, Ms. Jody's The Bop, The Klass Band Brotherhood's Sugaa Shack, She's Sure Got A Way With My Heart by Holiday Band, Chick Willis' Keep Singing The Blues, Ron Moody's Lulu's Chicken Shack, The Fantastic Shaker's I Still Do, Hip Pocket's It's Gonna Take A Long Time, Kid Rock's Rock Bottom Blues and Donnie Ray's Who's Rockin' You, to name a few.
A lady approached me recently and said she needed a sure cure for the blues. I told her to take equal doses of James Wheeler's Looking For My Baby, Ezra Charles' 88 Answers, Screamin' Jay Hawkins' Fourteen Wives, E.C. Scott's You Got The Wrong Number, Billy Boy Arnold's Don't Stay Out All Night , Joyce Lawson's Going Back To My Husband and Crosscut's version of Before You Accuse Me. Told her if that didn't do the trick to call 911, I couldn't help her!!
What's New: A couple of new compilation albums have been released over the last several weeks.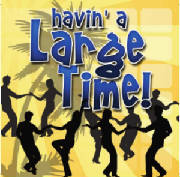 Havin' A Large Time – from Patman and Robin Records comes their second compilation with several strong cuts. (Congratulations, by the way to Pat and Robin as the new proprietors of Beachmusic45.com) Greenwood, South Carolina's legendary Swingin' Medallions provide the title track. Nantucket's I Need A Ride To Raleigh is already a charting hit and gets an extra push by appearing on this compilation. My faves to date have been Shag Attack's Who's Lyin' Beside You, The Not Brothers Band with I Know A Place, The Jeffords Brothers fine version of Let Me Love You Tonight, The Shrimp Shack Band's Keep Your Stove Warm and The Flashbacks' Come And Get It. I always gotta put in a word for two of my favorite entertainers, Steve Craig of the Out of Towners (Red Hot Mama) and Dana Jones with The Fabulous Shades (Me And My Radio). Part of two hard working bands in this business that often do not get recognized for their contributions. Cravin' Melon's Sweet Tea is a cool addition to rounding out this compilation of 15 tracks of new music..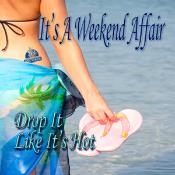 It's A Weekend Affair (Drop It Like It's Hot) – new and on board from Tobacco Road Records, features an upbeat title track from the Charlotte based Extraordinaires. The Subtitle track is a shag remix of a tune by Southern Soul young gun Charles Blakely that was already getting some major attention. Also checking in from that genre is Richmond, Virginia's Big G with a cut from (Chillin') from his latest CD. Phil Wilson, formerly of the Castaways, does a good job with the bluesy Love Crazy. I'm also partial to the Sand Band's Mixed Up Guy, Rene Russell's Get A Life, Summerdaze Band's Sho Been Good To Me and Johnny Cobb's stirring rendition of Soul Provider. She's Everything To Me from The Footnotes is an original tune written by Johnny Hilton. The revived version of the Impacts Band come in with Beach Blanket. Additional songs include previously released solos by Mike Lawing, Andy Young and Rickie Fox.
17 tracks all told, a lot of music to try to absorb!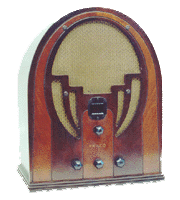 What's Happening: The inaugural class of the First Annual Beach Music Radio Hall of Fame was inducted on October 16, 2011at Lynn's Dance Club in Charlotte. The initial group was chosen for their long standing contributions to Beach music and the incorporating of the genre into the media of radio. The initial inductees include: Grady Brown and Woody Windham - South Carolina, Steve Hardy - Eastern North Carolina, Big John Ruth and Charlie Brown – Raleigh, Curtiss Carpenter - Southern Pines, Randy Rowland - Statesville and Charlotte, Rusty Page - Charlotte, Larry Sprinkle - Charlotte, Mary June Rose and Don Russell - Charlotte, Dave Landon - Charlotte, and Fessa Hook - North Myrtle Beach and Charlotte. Two awards were presented posthumously: Charlie Byrd for Charlie Byrd's Beach Blast and Johnny Jacobs for the Frantic Atlantic Beach Party. Congratulations to all the inductees and their families for this well deserved honor.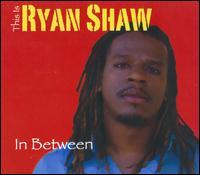 In the last edition of Beach Buzz, we discussed the fact that many of today's young contemporary artists are intentionally (and some unintentionally) attempting to recapture/reiterate a sound that is reminiscent of R&B and Soul music of the '50's and '60's. With that in mind, I came up with a potential compilation of songs from some of these artists that hopefully is a good cross section of the sound that they are creating. Give the songs and others from these artists a listen if you get the opportunity.
Wait For Me - Jamie Lidell
Staying in Love - Raphael Saadiq
Please Don't Go - Melanie Fiona
Stick Around - Mayer Hawthorne
He Loves Me Not - Sarah Williams
My Four Leaf Clover - Nicole Willis
You Are The Best Thing - Ray LaMontagne
Love You I Do - Jennifer Hudson
Memphis Train - Ryan Shaw
You Got Me Hummin' - Michael Grimm
Don't Cha Wanna Ride - Joss Stone
Soul Music - Anthony Hamilton
He Can Only Hold Her - Amy Winehouse
No Smoke Without Fire - James Hunter
Break Every Heart I Can - Eli 'Paperboy' Reed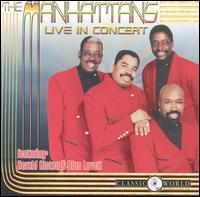 What's Way Old:
Volume 1 of Fessa John Hook's
Beach Music Guide
lists the Manhattans'
I Wanna Be (Your Everything)
as the #18 Beach song for the year 1965. It actually did a little better than that on the national level, making it up to #12 on the R&B charts. Kittrell, North Carolina native Gerald Alston was asked to join the group at the age of 17 when they happened to hear him rehearsing to perform on a Gospel show. He declined at that time but later, after the tragic death of lead singer George Smith in 1971, Alston, then 20, took over the lead role. The group went on to be one of the all time great smooth Soul harmonizers, with 33 singles and 13 albums making the Billboard charts over a 20 year period.
Kiss And Say Goodbye
made it to #1 on both the R&B and Pop charts in 1976 and is still a major slow dance floor filler. Alston left the group in the late '80's to pursue a solo career, but rejoined in 1994 for their 30th Anniversary Reunion Tour. The Manhattans were inducted into the R&B Hall of Fame in 1999. Gerald Alston and original member Blue Lovett continue to tour and perform a a full schedule today as part of the legendary Manhattans.
Artists, DJ's, Club owners etc. send me your latest news for potential inclusion in Beach Buzz at nealfur@aol.com.