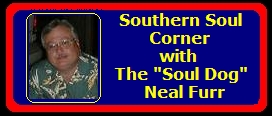 We are taking a little break this month from the current format. Quite a few folks relatively new to the genre known as Southern Soul read this column, so I thought they might be interested in a little bit of the history behind this great music.
The Emergence of Southern Soul In The '90's
This story has been told a hundred different ways over the last twenty plus years including twists by me, but I'll attempt to tell it here the way I see it now. Keep in mind that Southern Soul from a national and global perspective still runs even today pretty much under the mainstream music radar.
| | |
| --- | --- |
| | |
Soul music that originated in the South in the '60's and early to mid -'70's, from Memphis to Muscle Shoals, made quite an impact on the national music charts. This changed dramatically in the late 70's and 80's, as artists who had achieved a measure of success earlier nationally were relegated to the Blues chitlin' circuit, if anything at all. They were now considered relics according to all the major record labels.
Enter 1990, a pivotal point in time for what we know as today's Southern Soul. A special blend of music was emerging from the roots of Gospel, '60's and '70's Soul, down home Blues and R&B, all to form a genre that has exploded in the last two decades. But wait, remember we are back in time, just entering the '90's. Most of what we today call Southern Soul had been up to now characterized as the Blues. The rocket ship of change was being fueled – we just did not realize it in 1990.
| | |
| --- | --- |
| | |
Jackson, Mississippi based Malaco Records had carried the torch for many years and may have been the biggest single entity that bridged the deep Soul music of the '60's and '70's to the emergence of today's Southern Soul. Malaco had certainly been the kindling throughout the '80's to ignite what would become the movement of the '90's. Unfortunately, two of their superstars, Z.Z. Hill and McKinley Mitchell, had both tragically passed away by this time. Familiar names from the '60's and '70's, however, were on board with some very fine recordings. Bobby 'Blue' Bland, Dorothy Moore, Latimore, Shirley Brown, Johnnie Taylor, Denise LaSalle and Little Milton Campbell had revitalized their careers at the Malaco Church of Blues and Soul. All of these artists would continue to release albums on the label throughout the '90's.
| | |
| --- | --- |
| | |
Atlanta's Ichiban Records, originally formed as a Hip Hop label, had also gotten a Soul groove going, releasing recordings by Clarence Carter, Tyrone Davis, Milllie Jackson, William Bell, Trudy Lynn, Chick Willis, Joey Gilmore, Theodis Ealey and Francine Reed. Veteran performer Roy C was successfully rolling his own and rocking 'em all night long down South with his Three Gems label. Legendary record producer and promoter Johnny Vincent caught the fever of the movement. His revitalized Ace U.S. Records label world, in the early '90's, introduce Soul music lovers to a new breed of young gun performers - Chuck Strong, Ronnie Lovejoy, Lee Fields, Frank-O Johnson, and Robert Tillman.
Things were changing. The music had a new rhythm to it – together with verses of down home story telling more in a country juke vein rather than what you would hear on Beale Street. It was not Blues in the traditional sense but a new strain of R&B much more reminiscent of it's '60's and '70's Soul forerunners. The sound could come out of the box as a smoky juke joint mid tempo shuffle, as a slow grind or as a rockin' dance groove.
| | |
| --- | --- |
| | |
Willie Clayton, just 36 years old in 1991 but already with 20 years in the music business, would use both the Ichiban and Ace labels as a launching pad to soon become the one of the biggest stars in the Southern Soul arena. Malaco's Waldoxy subsidiary label signed veteran recording artists Bobby Rush, Artie 'Bluesboy' White and Ernie Johnson in the mid-''90's. Carl Sims, who had a hit album in 1995 on the Shreveport, Louisiana based Paula label, went on to record on Waldoxy a couple of years later.
Blues radio programming down South began mixing in more of the emerging sounds of this new style of Soul music. The '90's was an era of commercial CD's, which is what got distributed to the record outlets and sent to radio stations for air play. Again, we have to bear in mind that the genre was and still is very regional – the days of mega thousands of album sales were long gone for anyone trying to make it in Blues or Soul. If an artist could develop a fan base and sell 20,000 copies of a new release, it was definitely considered a success.

It's 1995. Songwriter John Ward unsuccessfully shops around some new tunes resulting in the decision to start his own label. He brings in veteran music man Larry Chambers as the Promotions Manager. Ecko Records is founded in Memphis with an initial release from former Stax recording artist Ollie Nightengale. After positive results, albums soon follow by Charles Wilson and Bill Coday. More veteran artists come on board leading to releases from by Chuck Roberson, Barbara Carr, Lee Shot Williams and Quinn Golden. Ecko would prove to be monumental as a future building block for Southern Soul.
Ace Records down in Mississippi went further out on the limb in the mid to late '90's, starting a subsidiary label called Avanti. The combined labels released albums by Soul vets Cicero Blake and Bobby Jonz as well as relative newcomers Pat Brown, Rue Davis, Big Cynthia Walker (daughter of Motown superstar Junior Walker) and Billy 'Soul' Bonds.
| | |
| --- | --- |
| | |
Soul great Tyrone Davis, who had 2 number one R&B charting hits in the late '60s, kept recording through the years even when the mainstream Soul market had all but dried up. By the time he signed on with Malaco in 1996, he had over 25 albums to his credit. It was also about this point in time that we were introduced to two dynamic voices who would have a huge impact down the road in Southern Soul – Mel Waiters and Wilson Meadows.
Southern Soul's regional neighbor, Beach music, began to heartily embrace this groove beginning in the early '90's and continuing throughout the decade. The club deejays discovered that many of the soulful tunes had just the right beat to be compatible to the shag dancers. The radio programmers soon followed suit – many of the radio stations focusing on Beach music were very similar to the demographic that evolved for Southern Soul – either AM or low wattage FM broadcasters in smaller locales.
| | |
| --- | --- |
| | |
In New Orleans, Mardi Gras Records, traditionally a Gospel, Zydeco, Jazz and Swamp Pop branding, formed a new label, Miss Butch, to capture the creative offerings of long time songwriter Jimmy Lewis. As well as recording his own material, he was writing new songs for Peggy Scott-Adams and Billy Ray Charles. Much of the arranging and recording was actually done at Lewis' California based studio. The labels would prove to be quite a springboard for aspiring new artists in the genre over the next several years.
| | |
| --- | --- |
| | |
|   |   |
Major record companies were still not interested as the popularity of this genre of music grew in the Deep South. Veteran names recording on independent labels that became more familiar in the '90's as emerging stars in Southern Soul included Marvin Sease, Jesse James, Lynn White, J. Blackfoot and Eddie Holloway. A group of artists being heard for the first time in the latter part of the decade included David Brinston, Vickie Baker, Kenne Wayne, Stan Mosley, Toni Green, Maurice Davis, Frank Mendenhall and Jesse Graham. Many more aspiring artists were on the horizon as the genre continued to expand.
Several artists wrote much of their own material as well as songs for others in the business. We can't forget about all the other talented behind the scenes songwriters, individuals like Paul Richmond, Bob Johnson, Sam Mosley, George Jackson, Homer Banks, Lester Snell, Raymond Moore and Richard Cason, just to name a few, who created the great lyrics of the decade.
As 1999 came to a close, many changes lay ahead for Southern Soul as well as the music industry in general. The '90's, however, laid a ton of bricks on the foundation base that was built to be known as Southern Soul. Opportunities to further expand in the new millennium were eagerly waiting.
Southern Soul Corner Favorites From The '90's
| | | | |
| --- | --- | --- | --- |
| SONG TITLE | ARTIST | LABEL | YEAR |
| I'm Between A Rock And A Hard Place | Clarence Carter | Ichiban | 1990 |
| Drop That Zero | Denise LaSalle | Malaco | 1990 |
| Talk To You | Tyrone Davis | Ichiban | 1991 |
| Power Of Love | Lynn White | Soh/Creative Funk | 1991 |
| Are You Lonesome | Johnnie Taylor | Malaco | 1991 |
| My Mind Is Too Strong | Eddie Holloway | Hot Blues | 1991 |
| Don't Let Success (Turn Our Love Around) | Chick Willis | Ichiban | 1991 |
| Just One Lifetime | J. Blackfoot | Basix | 1991 |
| Something's Mighty Wrong | Tyrone Davis | Ichiban | 1992 |
| I'm The Man You Need | Theodis Ealey | Ichiban | 1992 |
| Love Don't Love Nobody | Frank-O Johnson | Ace | 1992 |
| Three People Sleeping In My Bed | Willie Clayton | Ace | 1993 |
| Girl I'm In Love With You | Cicero Blake | Valley Vue | 1993 |
| Loose Lips | Trudy Lynn | Ichiban | 1993 |
| Dancin' With My Baby | Willie Clayton | Ace | 1994 |
| I'm Not Tired | Robert Tillman | Ace | 1994 |
| Real Love | Johnnie Taylor | Malaco | 1994 |
| Stay Close To Home | Dorothy Moore | Malaco | 1994 |
| You Beat Me At My Game | Chuck Strong | Ace | 1994 |
| All In The Open Now | Artie 'Bluesboy' White | Waldoxy | 1994 |
| You Ain't Got To Hide Your Man | Shirley Brown | Malaco | 1995 |
| I'm In Love With The Girl Next Door | Rue Davis | Kon-Kord | 1995 |
| Can't Leave Love Alone | Ronnie Lovejoy | Ace | 1995 |
| She's In A Midnight Mood | Ollie Nightengale | Ecko | 1995 |
| Coming To Tear The Roof Down | Lee Fields | Ace | 1995 |
| Storyteller | J. Blackfoot | Platinum Blue | 1995 |
| In The Room Next To The Room | Charles Wilson | Ecko | 1995 |
| House Of Love | Carl Sims | Paula | 1995 |
| Moan, Grunts And Groans | Bill Coday | Ecko | 1995 |
| In The Mood For The Blues | Ernie Johnson | Waldoxy | 1995 |
| Letting A Good Thing Go Bad | Joey Gilmore | Ichiban | 1995 |
| One Monkey Don't Stop No Show | Bobby Rush | Waldoxy | 1995 |
| Bill | Peggy-Scott Adams | Miss Butch | 1996 |
| Don't Get Off On Me | Pat Brown | Ace | 1996 |
| I'll Take The Risk | Lee Shot Williams | Ecko | 1996 |
| Been There, Done That | Francine Reed | Ichiban | 1996 |
| Hit And Run | David Brinston | Jomar | 1996 |
| That's Still My Love | Wilson Meadows | Ichiban | 1997 |
| Cutie | Rue Davis | Avanti | 1997 |
| Got My Whiskey | Mel Waiters | Waldoxy | 1997 |
| Rich And Famous | Jesse James | Gunsmoke | 1997 |
| If You Can't Cut The Mustard | Barbara Carr | Ecko | 1997 |
| In The Mood For Love | Bobby Jonz | Ace | 1997 |
| She's A Lady Of Love | Vickie Baker | Paula | 1997 |
| See You Nest Weekend | Jimmy Lewis | Mardi Gras | 1997 |
| Rock Me | Stan Mosley | Malaco | 1998 |
| I'm Gonna Sneak Back Home | Roy C | Three Gems | 1998 |
| Habit Breaker | Quinn Golden | Ecko | 1998 |
| This Girl Needs A Tune Up | Pat Brown | Avanti | 1998 |
| He Saw An Opening | Little Milton | Malaco | 1998 |
| You Can't Strike Gold | Johnnie Taylor | Malaco | 1998 |
| Two Steps Behind | Charles Wilson | Ecko | 1998 |
| My Baby Is The Only One | Bobby 'Blue' Bland | Malaco | 1998 |
| I've Been Partying All Night | Billy Ray Charles | Miss Butch | 1998 |
| Sorry Don't Pay The Rent | Big Cynthia | Avanti | 1998 |
| Leavin' | Tyrone Davis | Malaco | 1999 |
| Let The Door Hit Ya! | Peggy Scott-Adams | Miss Butch | 1999 |
| Hole In The Wall | Mel Waiters | Waldoxy | 1999 |
| Let A Real Woman Try | Barbara Carr | Ecko | 1999 |
| Hold You And Squeeze You | Marvin Sease | Jive | 1999 |
| Love Down | Kenne Wayne | MTE | 1999 |
| Soul Heaven | Johnnie Taylor | Malaco | 1999 |
| You Got To Grunt | Clarence Carter | Cee Gee | 1999 |
| Back Up Lover | Chuck Roberson | Ecko | 1999 |
| No Chicken Wings | Jimmy Lewis | Miss Butch | 1999 |
| Reverend Joe | Billy 'Soul' Bonds | Avanti | 1999 |



Archives:
****************************************