Ricky White - Grown & Sexy
Growing up in a musical family, Mississippi native Ricky got his solo start back in 2006 with the release of the album Mr. Juke Joint on the Brimstone label. Two additional albums on Brimstone followed prior to his arrival at CDS Records in 2013. He has since become a mainstay at Dylann DeAnna's label, being the principal artist on several 'Combination' CD releases with various artists as well as his solo efforts. He has become an established star as a very capable songwriter, arranger and producer, which has been demonstrated many times in recent years. Ricky was voted the Best Producer (2013 and 2014) and Artist of the Year for 2013 by Blues Critic. Charting hits here at the Corner have included I'll Always Love You, Sexy, Baby You're Ready and Angel.
I have to admit I have sometimes been lukewarm to a selection of his tunes, but I jumped right on She Got It Like That from this latest release. The title track emulates Ricky's signature style - smooth, silky vocals with supporting upbeat instrumentals. Baby You're Ready, which was actually on the Combination 3 release as well, hit the charts late last year. Stay Out Of My Business - uh huh, that's what she said! Bounce jumps off as a good track to be a dance floor filler! Ricky has become a master at folding in a contemporary sound while maintaining a groove that is still relevant in Southern Soul. Ricky's stock continues to rise in the genre with every new release!
Uvee Hayes - Nobody But You
St. Louis native Uvee Hayes has been practicing her craft as an accomplished vocalist for 30 plus years. She has crossed genre boundaries many times with multiple albums since 1984, when she began recording on the independent Mission Park label. My first recognition of Uvee in the Southern Soul arena was from her Play Something Pretty album, released on the CDS label in 2009. The title track, a moving duet with the legendary Otis Clay, is without a doubt one of the smoothest songs I have ever heard. That signature album was quickly followed up by Southern Soul Blues Sisters, with songs from Uvee as well as fellow St. Louis vocalist Barbara Carr, and featuring Blues soulman Roy Roberts. Other notable charters in the genre over the years include Steal Away To The Hideaway (also a duet with Otis Clay), A Woman's Gotta Do, In The Mood, Handy Man, You Make Me Happy, There'll Come A Time, Maintenance Man and Party Party Party.
I have characterized Uvee's music in the past as not so much Southern Soul as it is what I would call 'timeless' Soul. It represents a fusion of Jazz, Blues and Soul in a finite collection of expressions. Her latest release is an EP of sorts - 7 tracks of slow to mid-tempo tunes of exactly her style. Real vocals throughout, we were already charting the soulful leadoff tune, Your Love's Got A Hold On Me. The album title track has also made several of the recent charts. I mixed a late night drink on a recent evening and listened to the calming moods of I Wanna Hear Some Blues and That's How You Make Me Feel. Uvee does not hide behind overdone rhythm tracks - her singing is front and center in all of her songs. Great stuff from a certified diva in the Southern Soul arena!
Tre Williams - Chocolate Soul
The silky voice of Tre Williams first came to light in this genre as the lead vocalist for a group called The Revelations. Originating in Brooklyn, the group initially released Deep Soul EP in 2008, which was just a teaser of things to come. Their first full length album, The Bleeding Edge in 2009, was a resounding hard hitting package of a blended mix of current rhythms with some traditional Soul phrasings and throwbacks. I Don't Want To Know, Everybody Knows, Sorry's Not Enough, Because Of You and Stay Free are hit tracks that are good cross section representatives of the entire amazing album. Their follow-up release, Concrete Blues, was recorded in Memphis in 2011 at the late Willie Mitchell's studio. It was equally as impressive, as any album would be with Tre in the lead spot. Until I Get Enough Of You, I Gotta Have It (with Vick Allen) and One Reason To Stay were among the noisemakers from the release.
Tre was voted as the Best Male Vocal Performance by Blues Critic in 2012. He and The Revelations parted ways soon after - his latest album has several of the single song releases on it that he dropped since that point in time. BYOB Party, Put Your Cups Up and Ghetto Man have all received previous airplay. I'll Be Around is a strong pleading vocal asking for female forgiveness!! Caught In The Middle, you know that familiar story! 3 Rounds is getting some current attention as well. With the success to date and current momentum, things are looking very good for Tre Williams in the world of Southern Soul!
Calvin Richardson - All Or Nothing
Monroe, North Carolina native Calvin Richardson has been known to go back to his youthful influences in his music - a fine example was the 2009 release of the tribute album entitled Facts of Life: The Soul of Bobby Womack. Sam Cooke, Otis Redding and Donnie Hathaway were also among Calvin's favorites while growing up. Although Richardson has popped up many times over the last several years in the Southern Soul arena (touring in the genre as well), his primary recording focus (at least originally) has been more in the urban contemporary neo-Soul vein with a touch of Gospel. He actually met longtime friends K-Ci and Jo Jo (who were Charlotte, NC natives) when they were all teenagers touring on the Carolina Gospel circuit. Calvin, however, has always kept the remembrances of listening to classic R&B/Soul of the '60's and '70's in mind. His 2014 single Dark Side Of Love from the I Am Calvin CD is still getting DJ play and is on several charts.
Treat Her Right is the advance track from Calvin's latest album that is getting early chart attention - it is a slow and way down low testimonial that he does so well. The title track comes on strong, upbeat vocals, would be a great show opener at a live venue. Breaking Down Inside, OMG, this one could have been released in the '60's, it has that old school Soul feel. Holding On/Can't Let Go is a great late night radio groove. There are several tracks that say contemporary - Make Up Love, Break It Down and I Love The Way. I really like the smooth caramel coated vocals on The Only One. It is a good album to put on the player just to sit back and listen to the blended harmonies - a strong outing for another one of the top young guns of the genre.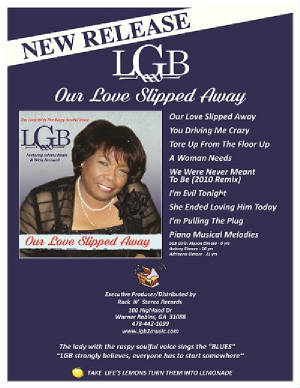 LGB - Our Love Slipped Away
Allendale, SC native LGB is back with her 3rd album since jumping into the Southern Soul mix with determination back in 2010. In and around music most of her life, her mentors have included legends Roy C and the late Benny Gordon. Having known this kind and humble lady for several years, I see her inspiration and positive attitude to be driven by her belief in faith, family and tradition. LGB's sultry raspy voice churns out a sound that we could classify as Country Soul. She stays within her comfort range when recording to produce a raw blend of inflections and harmonies. LGB has had several bonafide hits and charters along the way, most notably Reality Slowly Walks Us Down, I'll Always Love You But I Won't Always Be Your Fool, Jealous Wo-Man Yes I Am, I Am Who I Am (Jody's Baby Girl), Country Woman and Don't Miss Your Water (with longtime Blues crooner Drink Small).
The latest album will be available online shortly - my understanding is that this review is the official kickoff of the release and we are honored to do so. LGB has another legend in her corner, often appearing on shows with bluesman Johnny Rawls, who is included here on the mellow Our Love Slipped Away title track. Tore Up From The Floor Up is the title of a great Blues tune written and performed by Zora Young - LGB wrote her own lyrics with a very similar rhythm track to produce an outstanding rollicking song with the same title. We Were Never Meant To Be is a remixed version of one of the songs on her first album. She Ended Loving Him Today and You Driving Me Crazy are soft and sensual cuts. A Woman Needs jumps off with a hard drum downbeat - all of her songs reflect the ups and downs of relationships. My favorite track on the album may be I'm Pulling The Plug, with a western swing that would fit right on Big Country Radio. Daughter Tricia Barnwell, who has recorded in the C&W vein in the past, also contributes her vocals on this project. Nine tracks in all, it is not about a high gloss product but just real vocals and rhythms in simple terms! I love the label name, Rock N' Stereo Records, based in Warner Robins, GA, where LGB now resides. She keeps on coming with yet another labor of love!
Recent Arrivals: The singles keep coming in a flood! Let's take a look at what has been in the mailbox.............Hitmaker Nelson Curry, the Sugaa Shack man, of North Augusta and Klass Band fame has a new track that is a pick to click in Call Me, with production work by that Jackson, MS groove master, Big Yayo, who also just recently dropped Bedroom Rodeo (Remix), featuring Gentry Jones and Omar Cunningham.......Nelson's hometown buddy, Jerone Da Entertainer airmailed one on me lately that I like entitled Block Party, it's in da rotation!..............from further down the road in McCrae, Georgia, Lomax is fast becoming a bonafide superstar, both in the Beach and the Soul markets. Both Swing It and Why You Wanna Do That went to #1 in Beach over the last 2 plus years - I predict his brand new one, Kiss It Goodbye, will follow likewise......Out of Texas, she was known as Miss Rebekah a couple years back, with a nice track called Dancing With My Baby. Now it is just Rebekah as she teams up with Lady Audrey on a great rendition of Tryin' To Love Two. She also had a collaboration with the Superior Band entitled Magic earlier this year.............
Soul sensation J-Wonn burst on the scene in 2013 with I Got This Record, which was a monumental debut. Often collaborating with the magic touch of Big Yayo, his popularity continues onward and upward. His latest smokin' hot tune is with fellow young gun Tucka - it is an upbeat smash called Pretty Girl..........When you get a moment, go back to our June 2016 edition of the Corner and read the review on Sharnette Hyter's Grown Folks Talkin' album. She has had several tunes from the release make some noise in recent months AND has a hot single with Greenville, NC producer J Red (another very talented individual) entitled Call Out My Name..............Peggy Scott-Adams is one of the true female pioneers in today's edition of Southern Soul. She has been out of the genre awhile, focusing on Gospel music, but her comeback single, I'm In Love With Myself, signals that she still is a force in a big way......
I don't take covers of tunes very lightly from one of my all time faves, the late great Tyrone Davis. Newbie Andrew Edwards, however, does a creditable version of Can I Change My Mind...........One of Montgomery, Alabama's finest, Jeffrey Singleton just sent me a club mover entitled Dance Dance Dance - really nice groove!!..............She is indeed an all time Southern Soul diva that disappeared on us for quite a while. Little Kim Stewart was back on Sound Mindz Records earlier this year with the single Back To The Hole In The Wall. Just released - I'm Still Waiting, it is awesome!..........Tony Gideon's label has had a major hitmaker on board for several years named Jesi Terrell. Not sure how much burn her latest is getting, I do like it - I Wanna Do My Thang........Also from Sound Mindz, Mr X, Mark Safford continues to turn out great tracks - he has had a current hit in the Beach arena with Baby Come Back Home..........A couple of my all time favorites have new jams (new to me anyways!!). Mr. David, who has lit us up in the past with Shoo Da Wop, Fatback And Collard Greens and Soul School, has one that jumps off with House Party and a guy I have to keep my eye on (LOL), Sir Jonathan Burton, who has had too many hits to count in the last 25 plus years, is out with his latest, Dance Now Ask Questions Later. And I will be damned, they both even newer joints - David (Stretchmarks And All) and Sir JB (Driving Me To Drink). Like I said, they bear watching!!! LOL...........
Our good friend Lee Parker with Brimstone Records down in Birmingham keeps the music coming, both on his own label as well as the artists that he promotes. One of the biggest names in Southern Soul is one of Lee's favorites, that would be Wilson Meadows (one of mine too). His latest single is a mellow mid-tempo cut with Lady Luck.......X-Man Parker from Brimstone received a Best Male Vocalist nomination in 2016 for his single Boo Thang...... Solomon Thompson from the label has had recent success with several celebratory singles, including Time 2 Party, Mardi Gras, Some Football and Happy Birthday. All About You is his most recent that is getting some mentions..................the latest Lee Parker protege is Marvelous Moe Morris, who combines fresh tracks with an ol' school sound on smooth mid tempo joints Tell Me Why You Keep Coming Round Me and Running Kiss.............Jenni Oleson Weber down in Florida does a great job as the Promotions Director for the aforementioned Lomax, the many tunes of Donnell Sullivan (whose latest hit was Busted) and a relative newcomer, Mo B, who has had a couple of slick jams lately, Here Kitty Kitty and Soulfly...........
We have heard strong tunes from the Wilson, NC connection known as Black Diamond in Southern Soul over the last few years, they too collaborate at times with J Red on tunes. One of their best was If He Don't I Will back in 2014 and another absolute killer is They Want Me To. A couple of the band's latest joints are getting some burn over in the Beach market. Upbeat and rolling is Don't Stop Moving, ditto for Get Right Back To You. Hot on the Southern Soul side is a slower jam called True Love.............Avail Hollywood has a distinctive style that is all his own, making great strides in the genre in recent years. His latest is an ice cream floater (I like that description, LOL) called Kisses Like Candy.........Here's one release I missed big time last year. Walter Waiters, who is the late Mel Waiters' cousin, had some jumpin' jams At It Again and Up All Night on his Ole School Daddy album.......Mississippi's Jureesa 'The Duchess' McBride continues to impress, her latest is a slow groove that rings out a feel of drama on Call Me Crazy. She released a more upbeat track, Single Husband, earlier this year.....Who remembers Girl You So Sexy from 2004 by Patrick 'The PG Man' Green? It's definitely one to go get if you don't have it! He recently took his 2006 Bit Off More Than I Can Chew single, remixed it and like wow, it will be on my next radio show!! Patrick also has another brand new one, just out last week, entitled Just Because ..........Karen Wolfe continues to roll out great tracks as she has now for the last 10 years. Her latest on Coday Records is That Chick Ain't Me.............
The Vinyl Isn't Yet Dry: A few so new they are still wet!!! Jeff Floyd has been on board with the Atlanta based Wilbe Records (William Bell's label) since 2005 when he hit it big with I Found Love (On A Lonely Highway). His latest just out of the chute is entitled Workaholic..........a newcomer also out of the Atlanta area is Mz. Connie, who has a fresh track entitled You Can't Miss What You Can't Measure.........Surprised we have not seen a new album in roughly 5 years from award winning male vocalist Vick Allen. He has had several singles since that point in time, one earlier this year that has done very well, I'll Take Your Word For It. Just this week, he released a new one entitled Do Thangs.......What do we know about Le' Le' Storm? Notes from YouTube say she has been singing professionally for 25 years and has toured abroad and locally with several professional groups, singing Gospel, Soul Blues & Jazz. She has a brand new track, Shut Your Mouth, that is already smokin' hot in Southern Soul......
Well folks, the tank is empty! We ran out of gas but there will be more CD Reviews (Bigg Robb, Jaye Hammer, Jim Bennett, Mr. Sipp etc) before the end of 2017. I refuse to give up because of health reasons!! Keep the faith!