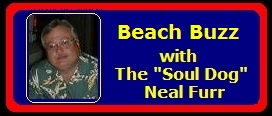 Beach Buzz
With The Soul Dog
| | |
| --- | --- |
| |   |
What Happened: Mid-winter SOS 2012 happened in a BIG way the weekend of January 13th – 16th. The clubs – Fat Harrolds, Ducks and Pirates Cove were a shag dancers paradise as the DJ's cranked out the tunes, both old and new. I can remember going to Mid-Winter back in 1999, a very small crowd indeed. The extended weekend's current affiliation with SOS and the ever increasing attendance each year is certainly a positive sign of things to come for 2012.
Among the hottest of the new tunes that was getting heavy Mid-Winter play is one that has just soared recently from a somewhat unlikely source, veteran artist Mr. L.J. Reynolds. A member of The Dramatics for many years, his rendition of Come Get To This with an additional improvisation on the end called Steppin' Out Tonight has a great old school groove. The dance floor fills up on this tune as soon as the song begins to play. A 6 plus minute version of the song was included on L.J.'s September 2011 album release of Get To This. A single version was released earlier last year that is slightly less than 4 minutes long and works well for the DJs. Will it climb to #1? Quite possibly, if early reviews are any indication.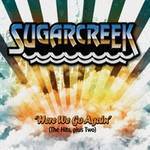 Songs currently making hot noise on the Smokin' Top 45 and/or the BeachShag.com national charts include: Gotta Have Love by Sugarcreek, Back By Popular Demand from The Queens Of Southern Soul, Sugarfied by Burton Gaar, Smokehouse Brown by King Tyrone & The Graveyard Ramblers, Over And Over from Rick Strickland, Howling At The Moon by Clay McClinton, I'm Just Sayin' from The Castaways, I'm In Heaven When I'm With You by Roy Hamilton, Smooth Sailin' from Holiday Band, I Thought I Knew Her by Angel Rissoff and Back To The Beach from Danny Woods.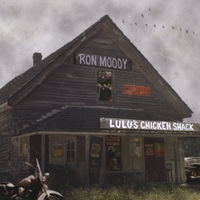 Lulu's Chicken Shack
An outstanding song that has stayed around now for several months on the Smokin' Top 45 is Lulu's Chicken Shack, from the album of the same name. It was written and recorded by Richmond, Virginia's Ron Moody, a very talented and diverse member of this business that has not always been recognized.
Ron's band, The Centaurs, got its start in the mid-'60's while the group members were still in junior high. They had a national hit on Columbia Records in 1969 with their horn laden version of If I Didn't Have A Dime. Ron moved to Atlanta for a few years in the early '70's, worked as a songwriter for Bill Lowery Music and played clubs with a band called New Dixie Line. Heading back to Richmond in the mid '70's, he re-established the Centaurs, who pretty much played private and corporate events, festivals, fraternities etc. non-stop for the next 25 years. Ron meanwhile, continued to focus on song writing, while also working for major record labels (ABC/Dunhill, Polygram, Universal). He also established his own music publishing company (Aron Music) and studio record label (Star America).
The Centaurs took a break from travelling and performing in 2001 for a period of time. Ron's ongoing song creativity had established the base for several solo projects that took off a few years later. Forthcoming albums Southern Style, Santa's Coming In A Cadillac (great Christmas tune!!), Gon' Dance and Lulu's Chicken Shack were the solid result of a cumulative library of tunes. What most people do not realize is that several Beach artists have recorded and had major hits with Moody penned songs. Included are: Do That Thang Again (Archie Bell), Macon, Memphis, And Muscle Shoals and Timeless (Paul Craver), Motown Here Today (Holiday Band), Closed For The Season (Billy Scott) and Rag Top Down (D.K. Davis). Do That Thang Again had an amazing run up the charts to #1 before it was even officially released!!
The band resumed playing again in the mid-2000's and continues to perform today. Roy Moody and The Centaurs were inducted into the Beach Music Hall of Fame in 2008. Ron recently stated that 'anyone who possesses the talent and the inclination to be a songwriter should certainly follow that passion for it is the 'SONG' that is the life blood of the music industry'. Ron continues to write and has recently been working on several collaborations with Steve Bassett. Look for more Ron Moody hits in the near future!!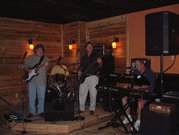 I recently was told that a certain Beach music personality was quoted at this past year's Carolina Beach Music Awards as saying several times 'Who the hell is Shag Attack?' I did not personally hear this but that is not surprising since I was under the influence some of the time of several medicinal remedies for a pinched nerve in my back! Said personality must not look at the Smokin' Top 45 at this website each month. Shag Attack had a song on the charts for several months this past year!
Shag Attack got its start several years ago serving as the host band for a weekly jam session at The Hound & Hare in Greenwood, South Carolina. Original members of the group were Mike Hill, Ronnie Goldman and Jimbo Durham. Rhonda McDaniel, who is Mike's sister, often sat in with the band, playing keyboards and providing vocals as well. Rhonda, however, was busy with her on solo career as well as with playing with the band Brasstyme. Occasional keyboards fill-ins were former Rickey Godfrey Band members Tony Kennedy and Bobby Simmons, with Bobby eventually going full time with Shag Attack.
The band went from a once a week deal to receiving many requests to play more outside gigs. All members also sat in with Brasstyme – as Brasstyme's demand as a higher overhead band shrunk along with the economy, the demand for Shag Attack increased exponentially.
At the urging of several individuals, Shag Attack began to look for a song to record. They poured over several tunes from various songwriters, including some Bobby Simmons already had in mind. One tune that was in heavy consideration was When You're Cool (The Sun Shines All The Time), that is, until Bobby called Rickey Godfrey and found out that Rickey had already recorded it for his solo album. Rickey, given the opportunity, wrote what became the perfect song for the band.
Bobby scheduled session time at Buddy Strong's Southeastern Sound Studio for the group to record. They emerged from that session with My Knees Are Gettin' Sore From Crawlin' Back To Your Door. The song, included on the Patman & Robin label compilation CD Something 'Bout The Music, became an instant hit, receiving several CBMA nominations. Shag Attack's follow-up tune, Who's Lyin' Beside You, came out this past fall on the Havin' A Large Time compilation.
Misfortune struck the band on December 30th of this past year. Band founder Mike Hill suffered a massive stroke and was airlifted to Augusta University Hospital. Mike is currently in rehabilitation with a strong determination to make a comeback. The band has lined up several fill-ins until the point in time that Mike can return.
To quote Bobby Simmons, Shag Attack is a band that looks forward to every gig, backs each other up, and has fun doing it! They have a 'large time' every time they play!
What's Coming: The 21st Annual DJ Throwdown, the first weekend in March. This is definitely one of the best events of the entire year at North Myrtle Beach. The live entertainment is always outstanding, the DJ's are motivated to play their best music and the fellowship of music professionals is hard to beat! This year's headliner Anson Funderburgh has been a highly recognized Blues guitarist, songwriter and bandleader for well over 30 years. Make your plans now to be there, you will NOT regret it!
What's Old: What is your favorite Beach tune from the late great Jackie Wilson? He had a ton of them that get played in the clubs and on the radio, some of which are still being discovered today. Jackie was a one of a kind performer who could sing just about any style of music.
Getting his start at age 18 when he replaced Clyde McPhatter in Billy Ward's Dominoes in the early '50's, Jackie went on shortly thereafter to embark on a solo career that lasted for nearly 20 years. From 1956 to 1975, Wilson had 60 singles make the Billboard Top 100 charts, while recording roughly 350 songs on the Brunswick label during that period. His live performances were so dynamic that he earned the nickname Mr. Excitement. Unfortunately, the good often DO die young. While performing on stage in New Jersey in 1975, Jackie suffered a massive heart attack with extensive brain damage. Lapsing into a coma, he remained hospitalized until his death in January, 1984 at the age of 49. His incredible music however, will live on forever.
Beach Buzz's 10 Favorite Jackie Wilson Songs
I'm The One To Do It
To Change My Love
Just Be Sincere
Since You Showed Me How To Be Happy
Love Is Funny That Way
Whispers (Getting Louder)
You Brought About A Change In Me
Sing A Little Song
Because Of You
Try It Again
Artists, DJ's, Club owners etc. send me your latest news for potential inclusion in Beach Buzz at nealfur@aol.com.