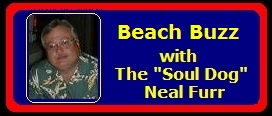 Jekyll Island, GA Beach Music Festival
What's Happening: Another chapter of SOS Spring Safari North Myrtle Beach style is in the books, more great live entertainment there than ever in the past! We are now entering the heavy outdoor concert and Beach music festival season in earnest. One of the biggest, the Triangle Beach Music Festival, held annually the last Saturday in April in Garner, N.C., was once again a rousing success. The heavy turnout at this year's event could be an indication of just how big the upcoming season might be. There are more Beach festivals than ever planned all up and down the Southeastern seaboard in the next few months. Sounds like the business to be in, right? Hire 3 or 4 bands, find a big open space to hold it, get you a few ticket takers, throw up a beer and hot dog stand and you are all set?? Wrong!!! Festivals (as well as outdoor concert series) take a huge amount of work, finding as many corporate, foundation (and or private) sponsorships as possible, creating a well thought out business plan, procuring a competent staff, insuring the security and safety of attendees, complying with all location laws and ordinances, etc. Not a business I would look forward to starting up at this point in life!! Hats off to all those in charge of making sure that Beach music lovers everywhere have the pleasure of enjoying these events each year!
Mayer Hawthorne
Hot Beach Songs: General consensus seems to be that there was not many new breakout songs at SOS. Young gun Mayer Hawthorne's The Walk is still smokin' hot (from his How Do You Do album, which is all outstanding). Mayer just performed at the Lincoln Theatre in Raleigh on May 3rd. The shaggers are really enjoying Southern Soul hotshot L.J. Echols' ribald From The Back. This tune is actually almost 3 years old but has had a revival in the Beach music world. From the new Steppin' Out Tonight album, Jim Quick's somewhat out of character edition (for him) of All That Matters To Me has quite a bit of momentum right now. From that same compilation, Atlantic Groove's I'm Crazy 'Bout That Woman In Red and Roy Hamilton's I'm In Heaven When I'm With You have both climbed multiple Beach charts of late. The Holiday Band's Buffett-esque Smooth Sailin', released over a year ago on their Sweet Feeling album, has really stepped it up in recent weeks. The Chairmen Of The Board's You, their first charting hit since the untimely passing of General Johnson, has held steady for all of 2012. Country music continues to have a strong influence in our market, with Billy Curringtons' prominent chart presence on Love Done Gone, which has proven to be a good dance tune. Hey, after two years, Band of Oz' I Can't Think still packs the floor. It is definitely one of those tunes that just can't go away.
New CD's Just Released: There are several new albums just released in Beach music within the past few weeks. Beach Buzz does not have full listening and review information on all them at this point but here is what we know:
Rhonda McDaniel – Where The Boys Are
The latest from Rhonda includes some of her previous hits such as Lighten Up as well as duets with Angel Rissoff and Mike Taylor. Early reports indicate her outstanding rendition of Look Before You Leap could be hit bound.
Steve Owens and Summertime - Steve Owens and Summertime
The first album release from this hot new band includes the latest versions of Greatest Love Ever Known and A Much Better Place as well as 10 fresh new tunes. I'd Give Up Everything For You is awesome!
Blind Jelly Melon and The Fabulous Jelly Rolls – From The Beginning
The Jelly Rolls originally started out as a comedy act initiated by the late Mike Lewis. This album contains some explicitly funny routines as well as all their past hits and a few new tunes, 22 cuts total.
Blind Jelly Melon and The Fabulous Jelly Rolls – Anthology
This one is music only, 16 songs both old and new as only the Jelly Rolls can do them, like Bring Your Own Money, which went to #1. Mini-Foo-Foo is a new one already rumored to be hot.
Coastline Band - All Time Coastline
The Coastline Band is 20 years young, a time frame that can be pretty much divided into two eras of band members. This 14 song collection represents the first era (or decade) of Coastline, the Ripete label years. In addition to the known hits, serious sleepers My Fault and Take It All, the first 2 songs Jim Quick wrote for the band, are included.
The Rick Strickland Band – Hangin Out
The 7th CD from the very talented Rick Strickland takes a new twist as it focuses on highlighting the entire band. There are 12 original tunes, all either written or co-written by Rick. The early front runner is called Every Now & Then.
More new music is in the works from the Tams, Embers and Gary Lowder, to name a few.......
I like the catchy new Cherry Groove tune by the Big Time Party Band, based out of Pittsboro, North Carolina. Although many may characterize it as just another 'beachy' song about suds, sun and waves, you have to listen to the lyrics to realize that there is some real meaning there. Written by band lead singer John Wilson, I'm also digging the instrumentation with the Archie Bell & The Drells style horn riffs throughout. Good job, guys (and gals)!
On a more somber note, the sad passing of Merritt Wilson, BTPB band leader Johnny's father (as well as John and Tiff's grandfather) occurred right at the beginning of SOS Spring Safari. Hats off to the band, however, who soldiered on, playing to a huge crowd at HOTOs on the first Sunday afternoon of SOS. Our thoughts and prayers continue to be with them.
| | |
| --- | --- |
| | |
I thought Daryl Hall and John Oates broke up as a duo several years ago? Or maybe I just dreamed it. They have for sure not recorded as much the past several years as they did early on in their career. Both Hall and Oates have at times recorded solo albums in the past. The decision was made last year that they would not be recording together going forward at least for the time being. The biggest selling duo ever has, however, given us some great tunes usable in the Beach market over the years. I Don't Want To Lose You, Getaway Car, Do It For Love, Give It Up (Old Habits) and all their renditions from their Our Kind Of Soul album (Used To Be My Girl, I'll Be Around, I Can Dream About You, etc.) are just a few of the songs that made their way into DJ's play lists.
Both artists released solo albums in late 2011. John Oates recorded a 12 track album, Mississippi Mile, which is a tribute to roots Blues and R&B. There are 6 songs Oates either wrote or co-wrote and several covers of classics with a smoky, barroom flavor. One I really like is the bluesy shuffle of Come Back Baby. Daryl Hall released Laughing Down Crying, an eclectic blend of which had been in the works for almost 2 years. Both Eyes For You and Don't Wait Too Long have seen recent Beach music chart action. Just because these two legendary artists have gone their own way doesn't mean we will not see more great music from them in the future!
What's Way Old: Do you remember a '60's Soul group from New Jersey known as the Spellbinders? Robert Shivers, Elouise Pennington, James Wright, Ben Grant and McArthur Mumford were the members of the quintet, which alternated male and female on lead vocals. Both Shivers and Pennington were originally from Southeastern North Carolina. Evolving from other groups such as the Crescendos and the Rinky Dinks, the Spellbinders came together and caught a lucky break in the mid-'60's, befriending emerging singer/songwriter Van McCoy. McCoy was in the midst of signing on with Columbia Records, having already written such hits as Stop The Music for The Shirelles, Baby I'm Yours for Barbara Lewis and Getting Mighty Crowded for Betty Everett. The Spellbinders also signed with Columbia and McCoy began writing and producing for them.
The resultant short lived career of the Spellbinders released several singles and one album, The Magic Of The SpellBinders, over roughly a 3 year period between 1965 and 1967. Fessa John Hook's priceless Beach Music Guide lists Chain Reaction and We're Acting Like Lovers as Spellbinders' key contributions, the latter appearing on the CBS 1990 Endless Beach compilation. I have to add a few more to my personal list of favorites that have that classic '60's Carolina flavor. For You (later covered by Chris Bartley), Help Me Get Myself Together, A Little On The Blue Side and Baby I Miss You strike a groove that take you back to carefree summer days of waves rolling in on sandy beaches. Check them out, all worth hearing!
Artists, DJ's, Club owners etc. send me your latest news for potential inclusion in Beach Buzz at nealfur@aol.com.
Archives: