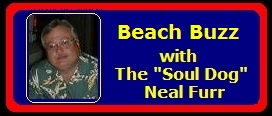 Some Key Venues With Beach Music This Season
| | |
| --- | --- |
| Greenville, South Carolina | |
| Pilot Mountain, North Carolina | |
What's Happening: As someone with hands on a potentially volatile keyboard and mouse (ie music critic?), I probably get asked the same question at least once a week - "What is the best Beach band out there today?" (like I am an expert?). I know I have favorites (not to be revealed) and that is exactly what they are – the best in something is often determined by subjective matter of personal choice. How many bands are out there today booking jobs with Beach music as their primary repertoire or relegated genre based on who they are and where and what they play? Gotta be at least 100 or more. I have to say I have been amazed in recent years at how quickly some of the startup bands have really become proficient in their craft in a short period of time.
I have a related question, which I will attempt to also answer - "Is there a WOW factor in Beach music?". My opinion would be yes and this factor can be a relative measure in determining just how good a band really is in terms of their peers. This factor is very important, particularly this time of year, when outdoor festivals, ongoing concert series etc. (such as the ones illustrated above) have crowds that are likely to be exponentially larger than indoor club and private party venues. The WOW factor to me is – "Does your band have an individual or individuals up front with the performing dynamics to truly engage a crowd and get them in the right frame of mind to be entertained?". I mean, the weather is nice, the mood is festive, day to day worries are temporarily (hopefully) forgotten, did your band come to just play or are they here to really entertain?
Let's face it, "the ho-hum 'that was, this is' song after song and now we'll take a short break" routine, ain't gonna get it when it comes to interacting with and captivating a crowd. Repetitive bookings, new clients, ongoing business, social media review etc. is always at stake. Presentation as well
as what opinion the crowd leaves with is often very important down the road. Some bands in the genre happen to have a very strong WOW factor and others, unfortunately are striving to get there. It can certainly be a game breaker for degree of success in the business!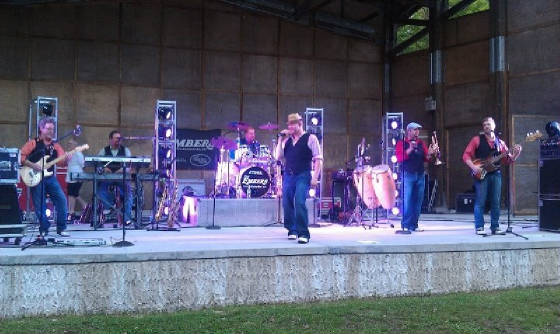 What's happening with the longest continuous running band in Beach music, The Embers? Formed in the late '50's, the band is known far and wide as the "Goodwill Ambassadors of Beach Music". Led by original member Bobby Tomlinson, the band stays constantly booked with gigs up and down the Eastern Seaboard. The current lineup: Tomlinson (Leader/Drummer), Wayne Free (Lead Vocalist/Trombone), Stephen Pachuta (Trumpet), Jeff Grimes (Guitar), John Ray (Bass) and Jimmy Weaver (Keyboards). The sound of The Embers can been enjoyed at many venues over the next few months. One in particular, they are the headliners at this year's Virginia Pork Festival on Wednesday, June 13th in Emporia, Virginia. This is a HUGE event every year with five entertainment stages running simultaneously.
After 18 albums and over 50 years of turning out music, The Embers are still able to produce outstanding hit tunes. Their recent single, Little Mama, has done well on all of the charts and has been a hot ticket with the club DJs. An even more recent release entitled Lovey Dovey is also beginning to make some real noise. So you may ask "How are The Embers these days?" Alive and well, still doing what they have done for over half a century, entertaining enthusiastic Beach music lovers where ever they go.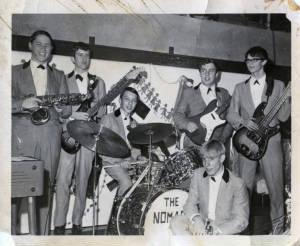 The Nomads Band, Chapel Hill, North Carolina circa 1965
Speaking of bands with a long history of playing Beach music as part of their overall show, a group from my hometown of Chapel Hill, North Carolina is getting ready to celebrate their 50th year in the business. The Nomads were the pioneers of the teen startup bands in town (we called them combos back then). More players saw the attraction and soon followed including The Corsayers featuring a young James Taylor (that's right, the one and only). Starting so young, The Nomads were able to find quite a degree of success even before finishing high school. I recently spoke with original member Robert Humphreys about the excitement of coming up on 50 years of playing in the band.. I'll let him tell the condensed version of their story:
'' The Nomads Band began with Bobby Scott, Robert Humphreys, and several other neighborhood Junior High kids in Chapel Hill sitting around in the summer singing to Bobby's guitar. We progressed into a real band with Bobby's brother Bill (who was all of 12 at the time) on drums; Robert, sax, Louis Ambrosio, trumpet; Kemp Nye Jr., bass; Bob Rasmussen, bongos; and John Umstead and Bobby, vocals. Our first real gig was in mid October of 1962 for our friend Jenny McClamroch's 13th birthday party at the Lion's Hut in Carrboro. We knew 10 songs and played 3 hours; repeating the same songs over and over and over. It was the first band that our friends had ever had at a party so it was a big deal for all. Once we tasted the adulation of our fans, we were hooked and never turned back. We quickly learned more songs, bettered our equipment, and played school dances and birthday parties around the Piedmont.
During our Chapel Hill High School days and once we got our drivers licenses, we branched out to a larger radius and started playing fraternity parties, Junior-Senior Proms and WKIX Record Hops (Bobby wrote and we recorded at Jimmy Capps Studios in Raleigh, WKIX's Charlie Brown's signature theme song that he played everyday as the intro into his show). Personnel changes along the way added Kent Collins, Steve Oakley (former lead guitar for James Taylor's first band the Corsayers), Kay Marley, and Jo Ann Faulkner.
In 1965, we played every day of the NC State Fair from noon to 6 PM in the Geodesic Music Dome. The Counts Four and The Kays played the night shows and we all alternated all day on Saturday. We did this for 3 years and it helped promote us to kids across North Carolina which lead to more proms and school dances.
We continued after college and into our adult lives with more changes in personnel adding Art Webb, David Hackney, and later Mel Baker, Matt Koch, Burt Cole, Joel Jones, and Herman Civils. After 50 years, Robert Humphreys is the only original member of the group but we're still having a great time spreading the FUN & FROLIC of Beach music, old Soul, and R&B; the music of our lives...........''
| | |
| --- | --- |
| |   |
Many female singers have come and gone over the years in Beach music. One that is definitely here to stay is McCormick, South Carolina's Rhonda McDaniel. She has had a continuous string of top hits in the genre over the last 7 years. Good Thing, You Got What It Takes, Why Am I Crying, Left With A Broken Heart, We're Tight (with Angel Rissoff), Touching In The Dark, You Bug Me Baby (with Mike Taylor) and Lighten Up have all worked their way up the Beach charts. Rhonda has been the Carolina Beach Music Award Female Vocalist of the Year for the last 4 years running. Her self-titled Rhonda McDaniel release was voted as the best Solo Album Of The Year for 2008.
Rhonda has shown no signs of late of slowing down. One of the top songs from the recent Queens Of Southern Soul compilation over the last 6 months has been her rendition of Don't Wait Around. Her just released album, Where The Boys Are, contains some new tunes that are potential hitmakers as well. The title track is a must request at all of Rhonda's live shows, Look Before You Leap has started up the charts and the Clifford Curry written Be Serious is getting major attention as well. Here's hoping Rhonda and all her singing sisters from the Queens continue to provide us with great Beach music for many years to come!
Where Were you in 2002???
Ten Years Ago in Beach Music: Does it seem like it has been 10 years since??......Craig Woolard, still with The Embers, had the number one song which was destined to become one of the biggest Beach hits of the decade with Love Don't Come No Stronger....... The Holiday Band would start an unprecedented 10 year string of charting hits with After The Lovin' from their Dining Out CD.......We would be introduced to an amazing singer with The Sugarbees named Rickey Godfrey who would soon form his own band and have a whole slew of masterful recordings over the next several years.......A studio group called Spring (never to be heard from again) had a huge hit with One Track Mind, written by none other than Calabash Flash........Ripete Records was still turning out Beach music hits along with the Forevermore, Surfside, Ruby Jude and Bradley House labels.......Fat Harrold's was the host location for the Spring and Fall SOS Friday afternoon Artist Showcase ............ The Pad was a 47 year old Ocean Drive institution and still going strong.......Paul Craver was captivating crowds as the lead singer for The Men of Distinction........ Butch Barnes was a bundle of entertaining energy on stage with The Band of Oz.......Bo and The Shakers were always a crowd pleaser.......The Breeze Band with Dink Perry and John G. Franklin, strong!........Jim Quick was riding the winds of change in The Coastline Band.........A two piece ensemble called Sea Cruz would win New Group of the Year at the 2002 Cammy Awards.......The Pepper Patio at Newtons Southwest in Cary, N.C. was Beach music magic under the stars every Thursday night from April thru October............ Remember H's? Why oh why did they ever tear it down?........Fessa John Hook was a weekday regular bringing us the best in Beach music on 94.9 The Surf......... ......The Beach Music Reporter was an active publication of submitted DJ play lists that were compiled into a monthly Top Beach music chart.........and, we were all 10 years younger!!
What's Way Old: How many artists have covered and recorded the Beach classic tune Ain't No Big Thing over the years? Let's see, Jimmy James and The Vagabonds, Holiday Band, Scotty Todd, Catalinas, Tempests, Angel Rissoff, etc., to name a few. The original, actually written by the legendary Little Milton, was a huge R&B chart hit for a group called The Radiants in 1965.

The Radiants, from Chicago, came together as a group in 1960 as a Gospel quintet known as The Troubadors. Maurice McCallister, who eventually sang lead, assembled the group which included Wallace Sampson, Jerome Brooks, Elzie Butler and Charles Washington. The name soon changed as did their music focus, with an interest in pursuing a career in R&B. McLauren Green had replaced Washington by the time they were ready to record some songs written by McCallister. Shopping their demos around eventually landed The Radiants a contract with hometown label Chess Records. Multiple lineup changes and several singles that failed to register were the norm until Voice Your Choice was released in 1964. It did very well nationally as did the follow-up – Ain't No Big Thing. With success at hand you would think the group would be solidified, but it was not to be.

Personnel shuffles continued throughout the '60's, including the departure of McCallister. The subsequent single releases of Don't It Make You Feel Kinda Bad and Hold On met with mixed results. By this time, Wallace Sampson was the only remaining original member. The group continued laboriously with various lineups a few more years before finally disbanding in the early '70's. Hidden gems? I think so – Baby You Got It, Shy Guy, My Sunshine Girl and Don't Wanna Face The Truth all have those beautiful harmonies that was characteristic of much of the lost Soul of the '60's.

Artists, DJ's, Club owners etc. send me your latest news for potential inclusion in Beach Buzz at nealfur@aol.com.

 
Archives: